Contact: NOVEC Public Relations, 1-888-335-0500, communications@novec.com
MANASSAS, Va. — Storms happens. So do power outages. Therefore, Northern Virginia Electric Cooperativeurges regional residents to have flashlights and emergency items ready in case they lose power.  
"Hurricane season may begin June 1, but the windstorm in March and the wind and thunder this week prove that powerful storms can cause power outages anytime," says Dan Swingle, NOVEC vice president of system operations. "We urge everyone to be prepared before the next big storm arrives."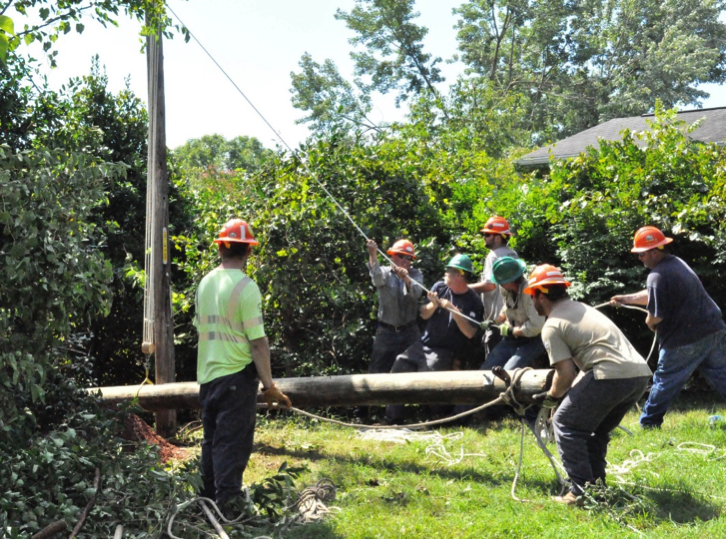 Restoring power after strong storms takes effort. NOVEC contractor crew replaces broken pole after an August 2017 tornado hit parts of Prince William and Fauquier counties. NOVEC photo
Have Ready:
flashlights and/or battery-powered lanterns
battery-operated radio 
first-aid kit
bottled water
non-perishable food
manual can openers
fondue or chafing dish and canned fuel 
matches
ice coolers and ice packs 
paper and plastic ware
prescription drugs
pet food
baby-care items  
Remember To:
Keep cellphones charged because cordless phones do not work when power is out.
Provide NOVEC with two phone numbers to help crews locate outages and restore service sooner. 
Call 911 and NOVEC immediately to report downed power lines and poles. Stay away from them and the area around them. Energized storm debris can electrocute anyone who contacts it.
Before an Imminent Storm:
Unplug TVs, DVD/ VCR players, microwave ovens, and computers to protect them from power surges and lightning strikes.
Secure bikes and tricycles, deck and lawn furniture, and anything wind can turn into a projectile.
If Power Goes Out:
Contact NOVEC by calling 703-335-0500 or 1-888-335-0500, texting, or reporting on www.novec.com. 
Go online to NOVEC's Outage Center for updates. 
Use flashlights or lanterns instead of candles. If using candles, keep them away from children and flammable furnishings. 
Avoid opening the refrigerator/freezer.
Warning:If using a portable generator, camp stove, or charcoal grill, use it onlyoutdoors to prevent creating deadly carbon-monoxide fumes indoors. Hire a qualified electrician to install whole-house generators to make sure electricity does not backfeed onto the grid and seriously harming line techs trying to restore service.  
 For more storm and power-outage information, go to www.novec.com/outageinfo.