Contact: NOVEC Public Relations, 1-888-335-0500, communications@novec.com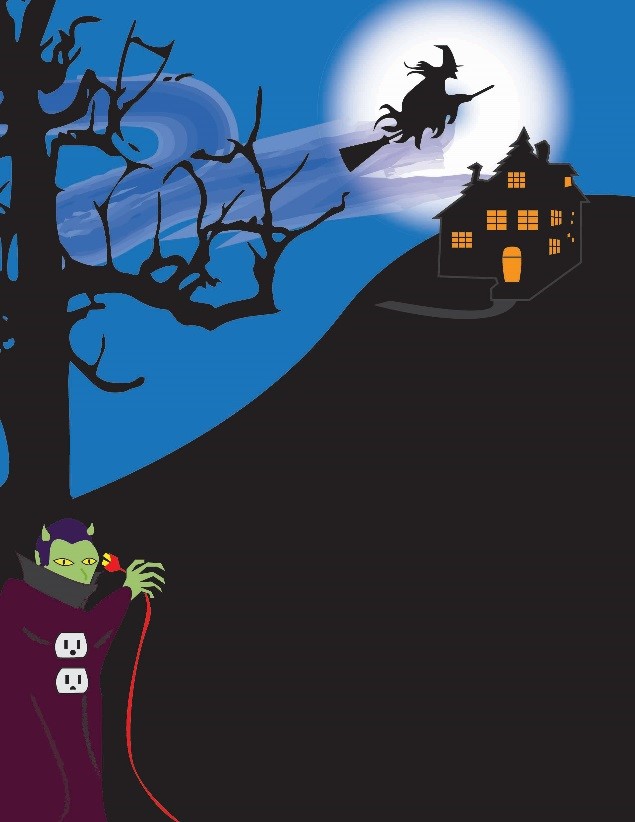 MANASSAS, Va. – Northern Virginia Electric Cooperative urges homeowners to "treat" their homes with money- and energy-saving "tricks" for Halloween before cold weather haunts a house with high energy bills for months.
"Halloween is a good time to prepare your home for winter," explains Bob James, NOVEC energy services representative. "You'll want to stop energy vampires from drawing electricity surreptitiously. And you'll want to hinder howling winds from blowing like poltergeists through attics, wall openings, and fireplaces. These 'ghosts' increase power bills and decrease comfort."
NOVEC's 13 Money- and Energy- Saving Tricks and Treats
Put Batts in the Belfry
Insulate the attic floor -- or belfry -- with R60 fiberglass batts, loose-fill, rigid-foam, or spray-foam insulation. Install an insulated cover over pull-down stairs. If used as living space, insulate attic walls and ceiling with batts. Do not block soffit vents, wires, motors or recessed lights. Ask an expert about the best insulation for the home's construction.
Caulk Cracks
Caulk masonry cracks in walls and between the house and concrete foundation. Seal openings around plumbing pipes, ducts, vents, chimneys, and anything that goes through floors, walls, ceilings, and roof with caulk or insulating spray foam.
Counterattack Creepy, Crawly Air
Carefully run a lighted candle or incense stick around window frames. If the flame flickers, bone-chilling air could creep into the house. Apply weatherstripping or caulk around frames.
Hinder Hair-Raising Heating
Heating uses almost half of household energy in winter. Use less:
Set an energy-saving programmable thermostat to 68 degrees on cold days and 55 degrees at night.
Have systems checked by a licensed service technician yearly.
Replace or clean air filters regularly.
Insulate and seal air ducts that travel through unheated areas.
Install an add-on heat pump to an attic room above a garage or to a sunroom. Adding a heat pump to an electric-heating system can trim heating costs 30 to 40 percent.
Purchase a new heating system with 90-plus annual fuel-use efficiency.
Put a Stake in Energy Vampires!
When little beady red lights glow in the dark on TV's, DVD and DVR players, computers, printers, and other electrical devices, energy vampires are sucking electricity from outlets. Save about 10 percent on bills: Put a "stake" into energy vampires by plugging electronics into advanced power strips. Turn off electronics, then turn off the strips. Also, unplug chargers after charging cellphones and other devices. See the Lawrence Berkeley National Laboratory to see how much power devices pilfer.
James says, "
Cover Ominous Outlets
Try something spooky: Put your hand near electrical outlets and switch plates. If you feel cold air, place foam outlet and switch-plate pads under them. Plug inserts into unused outlets.
Costume Curtains
Windows "costumed" in curtains help block bone-chilling air from traveling right through glass like ghosts. Blinds and honeycomb-like shades help too, as do storm and double-paned windows. Close treatments at night to trap heat indoors; open them during the day to let in the sun's heat.
Make Ghoulish Air Gone with Gaskets
Ghoulishly cold air can slither under exterior doors. Attach pliable gaskets on door bottoms at thresholds.
Halt Hot Water Horror!
Next to heating and cooling, a water heater uses the most energy in homes. Avoid the horror of high bills and scalding by lowering the thermostat from 140 to 120 degrees on an electric water heater, and between warm and hot on a gas heater. When the water heater gives up the ghost, purchase an energy-efficient one from NOVEC.
Disguise Water Pipes
Put hot-water pipes running through unheated crawl spaces, garage, or an outdoor utility room in an insulation "disguise."
Light with LEDs
Illuminate jack-o-lanterns with battery-operated candles instead of dangerous wax candles. Replace old-fashion incandescent and holiday light bulbs with LEDs. They use 90 percent less energy, last years, and are safe to touch. As with jack-o-lanterns, turn lights off when leaving or going to bed.
Fight Fireplace Phantoms
Air drafts, like phantoms, draw heated room air up chimneys. When flames die, cold drafts seep into the house. Stop drafts by closing the flue damper and tempered glass doors when not using a wood-burning fireplace. Caulk around the fireplace perimeter.
Plant 'Boo-tiful' Trees
Block bitter howling winds on dark, eerie nights by planting an evergreen-tree windbreak on the northwestern side of the house. Plant "boo-tiful" trees that lose their leaves around Halloween on the southern and western sides of the house to let the sun's rays go through branches and help warm the house.
For more energy-saving ideas for Halloween and all year long, go to .
About NOVEC