NOVEC Energy Solutions
Natural Gas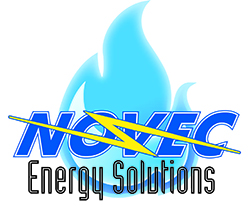 NOVEC Energy Solutions, a wholly-owned NOVEC affiliate, competes in the deregulated natural gas markets in the greater Washington, D.C. metropolitan area, Maryland, Virginia, and Pennsylvania and currently provides competitive natural gas service to approximately 20,000 natural gas customers, largely residential.
NES and other Competitive Service Providers buy natural gas on the wholesale market and resell it to consumers. The incumbent gas utility provides the pipe and connection to the home and delivers natural gas to the consumer. The consumer receives a single bill that breaks out the cost of delivery (from the incumbent utility) and the gas supply cost (from NES, another CSP, or the incumbent utility). This type of billing is called an "unbundled" bill and is similar to how NOVEC's electric bill is laid out.
For more information or sign up for natural gas service, visit the NOVEC Energy Solutions website or contact an NES representative locally at 703-392-1677 or toll-free at 1-888-627-7283 or via email at nes@novec.com.
High Speed Internet

NOVECnet, the latest service provided by NES, provides high-speed satellite Internet broadband service for the many people who don't have access to fast, high-quality Internet service. Powered by Exede Corporation and their ViaSat service, NOVECnet brings together the highest capacity satellite in the world, state-of-the-art ground equipment, and breakthrough web acceleration technology — all optimized to bring you super fast speed and high quality streaming.
NOVECnet currently offers speeds of up to 15 Mbps through three plans:
Basic, with 10 gigabytes (GB) per month
Intermediate, with 15 GB per month
Pro, with 25 GB per month
For more information about NOVECnet or to sign up, visit www.NOVECnet.com or contact an NES representative toll-free at 1-866-511-9005 or via email at nes@novec.com.