Enroll in e-Billing

NOVEC customers can enroll in e-Billing to receive, view, and pay their bills online using an existing checking account or a savings account that can perfom payment transactions (please check with your bank). You will be notified via email when your monthly bill is available for online viewing and payment. There are no additional fees associated with this service.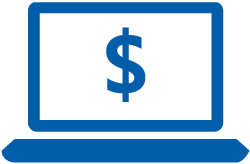 Once registered for e-Billing, you will receive three more paper bills in the mail. After the third subsequent e-Bill, paper bills will no longer be mailed. Please be sure to frequently monitor your e-billing account. Customers who register for this program are responsible for ensuring their intended monthly payment has been credited on time.

You should print your e-Bill for your records. If you no longer wish to participate in the e-Billing program, you must sign into your account to remove yourself from the program
Advantages:
Paperless
No additional fees
Ability to schedule payments
Bills may be viewed and paid online
Around-the-clock availability
Use a bill payment consolidator site, such as banks, brokerages, and credit unions *
* Consolidators may charge a fee for this service.