EZ-Pay Option
Online Credit Card, Debit Card, Electronic Check Payment Option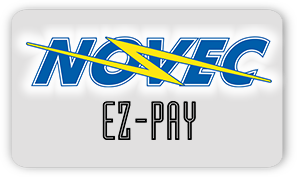 You may pay your bill by credit card, check, or debit card via the telephone or internet using the EZ-Pay service. Payment transactions may be completed by calling the toll-free number, 1-888-335-0500 and pressing option 2, or by selecting the EZ-Pay link above and following the instructions. This service is available 24 hours a day, seven days a week. EZ-Pay will charge a fee of $2.45 for each transaction. There is a $2000 maximum per transaction/per week. The $2.45 fee will apply to each transaction.
To use this service you must be the legal owner of the payment account. Please note that you are not permitted to have third parties, such as debt consolidator groups, make payments on your behalf.
EZ-Pay is available in both English and Spanish and will accept either ATM/Debit (STAR, NYCE, PULSE, ACCEL, MasterCard or Visa) or credit cards (Mastercard, Visa, Discover and Diners' Club International). EZ-Pay does not accept American Express.
EZ-Pay is the only method for paying your NOVEC bill via credit card or debit card.
Late payment penalties will apply if amount due is not received by the due date. You should submit your EZ-Pay payment at least three business day ahead of the due date.
For more information about EZ-Pay, please call 703-335-0500 or 1-888-335-0500.