Contact: NOVEC Public Relations, 1-888-335-0500, communications@novec.com
MANASSAS, Va. – Northern Virginia Electric Cooperative (NOVEC) and National Rural Utilities Cooperative Finance Corporation (CFC) employees worked together on Oct. 10 to refurbish two homes for residents with disabilities in Manassas and Woodbridge. The 50 co-op employees painted, stained, power washed, mowed grass, and mulched garden beds at the homes operated by CRi -- Choice. Respect. independence.
"CRi offers residential and community support to people of all ages with mental health or intellectual disabilities," explains Janet Davison, CRi volunteer manager. "We strive to provide opportunities for them to live independently in welcoming and comfortable spaces. We can't thank the co-op employees enough for helping us make these homes more enjoyable for our residents."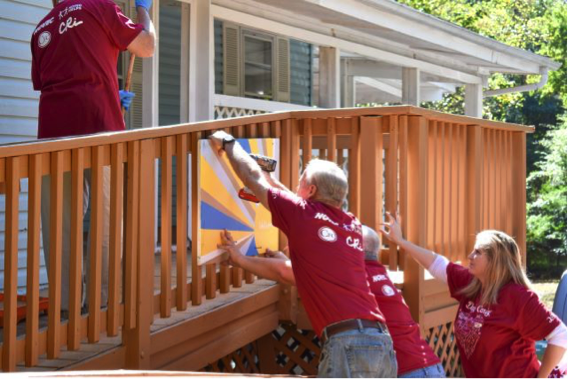 NOVEC and CFC employees hang a painting at a CRi home in Manassas after staining the wheelchair ramp. NOVEC photo
"We worked together inside and outside to make two CRi homes look bright and cheerful for people who truly needed our help on our Day of Caring," says Ashley Arnold, NOVEC HELPS executive director. "The best reward for us was seeing the transformation of these houses. It's amazing what cleaning, painting, and yard work can do. CRi staff members told us how happy residents would be when they returned home and saw the work we did."
Cooperatives value corporate citizenship
CRi is the fourth local community organization NOVEC employees and members of NOVEC HELPS – Hands Engaged in Local Public Service – have helped on the Day of Caring event. CFC employees joined the effort this year.
"NOVEC has always supported the communities we serve," notes Stan Feuerberg, NOVEC president and CEO, who participated in the volunteer effort on Oct. 10. "By joining forces with CFC employees, we accomplished a lot in a day."
Sheldon Petersen, CFC chief executive officer, said, "I couldn't be more pleased that CFC collaborated with volunteers from NOVEC to give back to the community for the 2019 Day of Caring. This partnership of working together to help others exemplifies two of the seven cooperative principles – Cooperation among Cooperatives and Concern for the Community. The Day of Caring is a wonderful opportunity for volunteers from our organizations to demonstrate our cooperative commitment to empowering local communities."