Annual Meeting
NOVEC holds modified annual meeting during COVID-19
by Priscilla Knight
Equipped with facemasks and hand sanitizer, NOVEC members gathered for their annual meeting in an open-air construction bay at the Co-op's Gainesville Technical Center on Oct. 14, 2020. Approximately 50 people practiced social distancing while hearing about NOVEC's progress in the past year and voting for directors to fill two seats on the Co-op's board of directors.
Lisa Hooker, NOVEC vice president of public relations, welcomed members and said NOVEC was adhering to Center for Disease Control and Prevention guidelines. "The Co-op annual meeting is a long-standing tradition. The coronavirus required us to re-think how we conduct our annual meeting, but we're proud to carry on the tradition tonight."
Election Results
Members elected Mark J. Bruno to represent District 4 on the board of directors. The district includes parts of Fauquier, Prince William, and Loudoun counties. Bruno brings to NOVEC's board his experience as senior vice president of the Space and Mission Systems Group of Engility Corp. (formerly Northrop Grumman/TASC). Bruno, the lead for more than 2,000 employees, was responsible for 70 programs worldwide. 
Members re-elected Wade House to represent District 5, which includes parts of Fauquier and Prince William counties. House, who ran unopposed, has served on the board since 1993 as secretary, treasurer, vice chairman, and chairman.
NOVEC's Accomplishments
Chairman House addressed the assembly. He praised employees for putting NOVEC in the top 10 among the nation's largest energy companies in the J.D. Power Residential Customer Satisfaction Survey for the last decade. He said, "The board is extremely pleased with the results of the Co-op."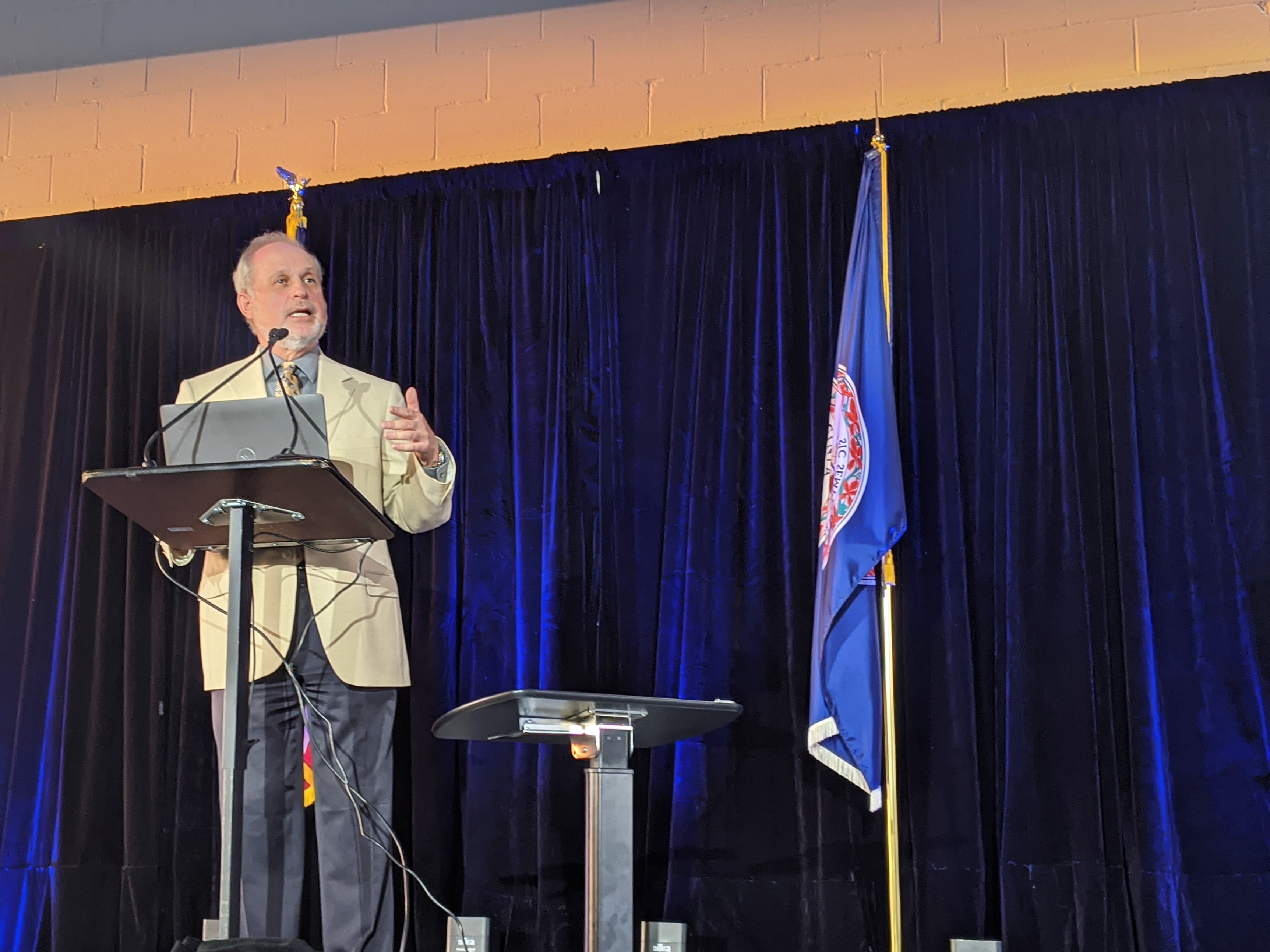 President and CEO Stan Feuerberg (pictured at right) highlighted some of NOVEC's accomplishments:
• NOVEC has been the most reliable electric utility in the region for 21 consecutive years and is on track to make it 22 years. Feuerberg said, "Our outage restoration performance is among the best ever this year."
• Data center and population growth in NOVEC's service territory has increased power load. "We have more load than some small states." The Co-op welcomed its 175,000th metered customer in August.
• NOVEC was one of the first Virginia utilities to completely divest itself from coal-powered electricity. In addition to natural gas-fired generation, it is generating and distributing renewable energy from its 49.9-megawatt biomass power plant, as well as electricity from landfill gas and solar photovoltaic systems. By 2023, NOVEC will distribute the energy output from an additional 300 megawatts of solar capacity created at multiple Virginia sites.
• The Co-op has not had a base-rate increase since 1991. NOVEC reduced its base rates by 4.5% in 2011.
• Power cost adjustment credits on bills, given since 2012, will save customers approximately $52.4 million, total, in 2020 "due to shrewd power purchasing."
• NOVEC Solutions is selling its patented NS One-net to meet customer demand. This "revolutionary" invention allows data to travel in two directions on one optic fiber, thus reducing data-transport costs by almost 50%.
• The Co-op has close to $1 billion in assets, with little debt.
• NOVEC and NOVEC HELPS are donating thousands of dollars to area food banks this year to assist people struggling with hunger because of COVID-19.
---
A little humor from NOVEC's President and CEO
As promised, click here to view Stan Feuerberg's joke for the attendees of NOVEC's 2020 annual meeting. Enjoy!
Gift Card Winners
This year we have 29 winners! If your name is listed below, please check your mailbox in the coming days for your prize. 
| | |
| --- | --- |
| JAMES W WADDELL JR | NOKESVILLE VA |
| FRANK POLINK | FAIRFAX VA |
| W G ABERCROMBIE | BROAD RUN VA |
| MARY & DONG MOON | CENTREVILLE VA |
| ROBERT A & DEBORAH I DANIEL | LEESBURG VA |
| JANON STALEY | DUMFRIES VA |
| WILLIAM J & BRENDA SINCLAIR | HAYMARKET VA |
| REGINA SAUCHUCK | CENTREVILLE VA |
| KARL W & BARBARA G SMITH | CLIFTON VA |
| MICHAEL R PETERS | SOUTH RIDING VA |
| JERRY & CATHY PISARCIK | CENTREVILLE VA |
| THOMAS E & CORNELIA N HUTT | PURCELLVILLE VA |
| STACY L MILLER | CATLETT VA |
| ROSE M GREEN | WOODBRIDGE VA |
| DAVID E CROSON | MANASSAS VA |
| ALAN & RUTH ADLER | MONTCLAIR VA |
| ROBERT L FREDEEN III | ALDIE VA |
| MARK JANSEN | NOKESVILLE  VA |
| STEPHEN & GLORIA LUHAN | BRISTOW VA |
| JACKIE FENIMORE | ALDIE VA |
| CATHERINE WALTHAM-SAJDAK | CENTREVILLE VA |
| SEAN MURPHY | HAYMARKET VA |
| JIWON KIM | BRISTOW VA |
| LISA FRAVEL | STAFFORD VA |
| JAMES & KEITH SPENCER | MANASSAS PARK VA |
| ASHRAF & HAYA ABDELHAK | BRISTOW VA |
| IRMA CABRERA | MANASSAS VA |
| RANDALL MCCRODDEN | MANASSAS VA |
| EARL TAYLOR | CLIFTON VA |