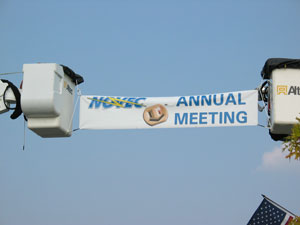 2013 Annual Meeting
As customer-owners made their way through the halls of Battlefield High School during NOVEC's Sept. 18 Annual Meeting, they received information about Finance, Metering, Miss Utility, Construction, Customer Service, Distribution Engineering, NOVEC Energy Production Halifax County Biomass, NOVEC Energy Solutions, NOVEC Hands Engaged in Public Service, NOVEC Solutions, Right of Way, Procurement, Public Relations, Substations and Telecommunication, Transportation, and Co-op career opportunities.
After conversing with NOVEC employees and eating the spaghetti dinner served by the Band Support Organization, customers gathered in the auditorium. They listened to the New Dominion Choraliers and eagerly awaited the CEO presentation, board election, and door prizes. 
Dexter Odin, NOVEC board counsel, called the meeting to order. He declared a quorum with 532 customers present and 5,176 present by proxy; officially meeting the requirement that 2.5 percent of the total membership be represented in person or by proxy. Odin later introduced board candidates who ran for the vacant District 8 seat: Skip Albrite, Donna Grove, and Ramon Williams. They all addressed the customers and gave reasons why they should be the new board member.  
While the votes were tallied, President and CEO Stan Feuerberg highlighted the corporate priorities and performance of the past year: 
A Relevant Business Model — NOVEC delivers reliable, competitively priced energy from a diverse supply portfolio and provides a variety of associated services to meet the high expectations of its customer-owners. When the Co-op performs well, NOVEC members benefit.
Reliability — NOVEC has been the best at keeping the lights on among utilities in the Washington, D.C., metropolitan area for 14 consecutive years.
Biomass Plant — NOVEC's biomass plant will be dedicated on Nov. 14, 2013. The renewable energy plant will generate enough electricity to power about 16,000 NOVEC homes.
Tools and Technology — With the help from a Department of Energy smart-grid grant, the Co-op installed $10 million of state-of-the-art tools and technology such as fiber optics and digital communications that enable the NOVEC team to restore service faster.
A Greener Generation — NOVEC has green-energy initiatives such as the biomass generation plant, renewable-energy certificates, vehicles that run on biodiesel fuel, and residential solar-energy systems are offered by an affiliate. The Cooperative also promotes its HomeEnergySuite on NOVEC.com.
Corporate Citizenship — NOVEC invests in the communities it serves by donating to a number of civic, community, health and youth programs, as well as offering programs such as Youth Tour, NOVEC's scholarship program, and Operation Round Up®. NOVEC employees also support the community through Hands Engaged in Local Public Service.
NOVEC's Affiliates — In addition to NOVEC Solutions and NOVEC Energy Solutions, the Cooperative created NOVEC Energy Production in 2012. NOVEC Energy Production will manage and operate the biomass plant near South Boston in Halifax County, Va.
Pole Attachments — NOVEC and Comcast were unable to reach an agreement on a new pole-attachment contract, and under the provisions of compromise legislation passed by the General Assembly in 2012, an evidentiary hearing before the Virginia State Corporation Commission is scheduled for November 2013.
Customer Satisfaction — J.D. Power and Associates' 2013 Residential Customer Satisfaction Study ranked the Cooperative 4th among 30 midsize utilities in the South and 6th in the entire study, which included the 126 largest electric utilities in the nation.

Financial Performance — NOVEC's asset base is approaching $800,000. The Co-op's financial position is strong. NOVEC's ongoing strategy of paying down debt and avoiding the temptation to borrow money, even at low interest rates, has allowed NOVEC to take advantage of new business opportunities.

At the conclusion of the CEO Report, Odin announced Skip Albrite as the newest board member who will represent District 8.