College Scholarships
NOVEC's 2021 Scholarship Online Application Process is Closed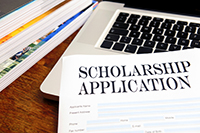 Each year, NOVEC provides local area high school students the opportunity to apply for college scholarships. The scholarships award $1,500 to high school students in five counties where NOVEC provides electric service – Fairfax, Fauquier, Loudoun, Prince William, Stafford, and in the City of Manassas Park. In addition, a single $1,500 scholarship is awarded to a student who lives in NOVEC's service territory and is either home-schooled or attends private school. Because the majority of NOVEC customers live in Prince William, Fairfax and Loudoun counties, two $1,500 scholarships are awarded in these counties.
After the scholarships are awarded, another review will be conducted of the winners and selection committees will award the $1,500 Garber Scholarship to the top outstanding student. This student will receive a total of $3,000.
The 2022 Scholarship Process will begin in January of 2022.