College Scholarships
NOVEC PROUDLY PRESENTS THE 2016 SCHOLARSHIP WINNERS TO AREA HIGH SCHOOL SENIORS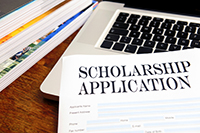 NOVEC has proudly presented college scholarships for more than a decade to outstanding students in the counties where we serve – Fairfax, Fauquier, Loudoun, Prince William and Stafford – and the City of Manassas Park.
A single $1,500 scholarship is awarded to a student living in NOVEC service territory who is home-schooled or attends private school. Because the majority of NOVEC customers live in Prince William, Fairfax and Loudoun counties, two $1,500 scholarships are awarded in these counties.
In addition a $1,500 Garber scholarship is awarded to the top outstanding student. After the selections are made for the other scholarship winners, a second review is conducted to determine the Garber Scholar. This year's winner received a total of $3,000.
The NOVEC High School Scholarship program helps graduating seniors fulfill their desire for a college education. The scholarship program is an important part of NOVEC's long-standing commitment to education.  Students were selected to receive a NOVEC scholarship based on scholastic achievement, community service, work experience and demonstrated leadership qualities. These scholarship winners excelled academically and also participated in a variety of extracurricular activities, ranging from student government positions to sports teams. We salute and congratulate them as they begin their higher education years this fall.
Emily Xu (Garber Scholar) – City of Manassas Park High School: Manassas Park High School
Jillian Huweart – Prince William County High School: Patriot High School
Patrick Murphy – Prince William County High School: Forest Park High School
Prem Madesh – Loudoun County High School: Freedom High School
Shannon Morrical – Loudoun County High School: Freedom High School
Kristen Kelly – Fauquier County High School: Kettle Run High School
Corrie Michell– Private/Home School High School:  Pope John Paul the Great Catholic High School
Landon Johnson – Fairfax County High School: Westfield High School
Mary Mastaler– Fairfax County High School: J.W. Robinson High School
Ryan Schmitz – Stafford County High School: North Stafford High School
Miranda Strawser (NOVEC dependent) – High School: Fauquier High School