About NOVEC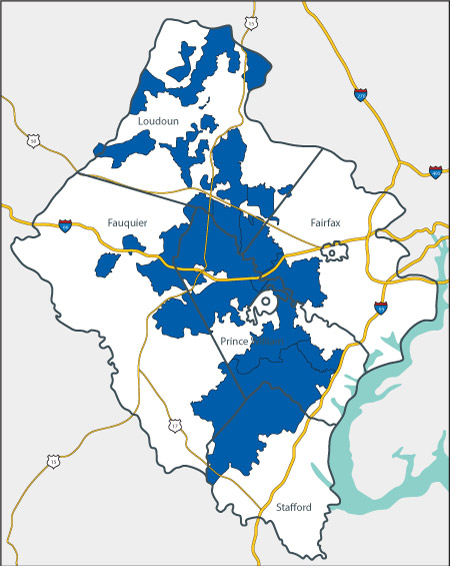 Northern Virginia Electric Cooperative is a locally based and locally owned electric distribution system headquartered in Manassas, Virginia.
Office Locations/Service Territory
NOVEC has office locations located throughout our service territory in Manassas, Gainesville, Leesburg and Minnieville.
NOVEC's service territory encompasses 651 square miles with more than 7,200 miles of power lines.
NOVEC provides reliable electric service to more than 167,000 homes and businesses located in Clarke, Fairfax, Fauquier, Loudoun, Prince William and Stafford counties, the City of Manassas Park and the Town of Clifton, all in the state of Virginia.
NOVEC will open a new service center in Loudoun County in 2018 to better serve our customer-owners in the area.
County Fact Sheets: Fairfax, Fauquier, Loudoun, Prince William, Stafford
---
Customers
NOVEC is a not-for-profit corporation. As a cooperative it is owned and controlled by its customer-owners — the customers who purchase energy from NOVEC.
NOVEC's customer-owners elect a board of directors which governs all Cooperative business affairs.
The majority of NOVEC's customers are residential and small commercial, however we provide electric service to numerous large commercial retailers such as Potomac Mills Outlet Mall, NOAA's Mount Weather Facility, Vulcan Materials Company, Verizon, AT&T, Doane Food Products, Treasure Chest Advertising, several Luck Stone Corporation quarry locations, and multiple data centers.
---

Technology At Work
As a leader on the high-tech frontier, NOVEC is using proven, cost-effective technology to improve productivity and reliability, reduce expenses, and increase cybersecurity – a national priority. Today's technology includes what the industry calls "smart grid," as well as fiber optics, and mobile workforce.
---
Electric System
NOVEC is a distribution electric cooperative. NOVEC purchases wholesale power through the PJM marketplace. PJM Interconnection coordinates the movement of wholesale electricity in 13 states and the District of Columbia.
NOVEC's long-term energy strategy is to deliver to its customers a locally controlled energy supply that is reliable, environmentally responsible, and competitively priced.
NOVEC's service reliability is the best in the region with a 99.99% average system reliability for the past five years. This means that NOVEC's customer-owners experience, on average, less than 1 hour of outage time each year. Industry standard measures, which exclude major storms such as hurricanes, are used for this calculation.
---
Affiliates
Board of Directors
Eight elected representatives, serving each of NOVEC's defined geographical districts comprise the board. They, in turn, hire a President/CEO who manages the daily operations of the company. Two or three directors are elected each year (according to the Bylaws) to serve four-year terms by a plurality vote of the members.
Nominations may be made by a petition signed by 15 or more members and submitted at least 70 days prior to the Annual Meeting date. Current board officers and directors are:
Wade C. House
Chairman
District 5
Term Ends - 2020
 
James Chesley
Vice Chairman
District 3
Term Ends - 2021
Michael E. Ragan
Secretary
District 6
Term Ends - 2021
Ann Wheeler
Treasurer
District 4
Term Ends - 2020

 
Brent George
Director
District 2
Term Ends - 2019

J. Manley Garber
Director
District 7
Term Ends - 2018
Cynthia Gilbride
Director
District 1
Term Ends - 2018

Stan C. Feuerberg
President/CEO

Skip Albrite
Director
District 8
Term Ends - 2021
 
 
 
 
 
 
Cooperative Bylaws
NOVEC's bylaws are written rules adopted by the Cooperative to govern its members and regulate business matters. We encourage all customer-members to read the bylaws and feel free to ask any questions concerning them.
View the NOVEC Bylaws (PDF)
For More Information
For other questions or for general information about the Cooperative, you may call the NOVEC customer service center, Monday through Friday, from 7 a.m. to 6 p.m. at 703-335-0500 or toll-free at 1-888-335-0500. Or you can e-mail us.