Contact: NOVEC Public Relations, 1-888-335-0500, communications@novec.com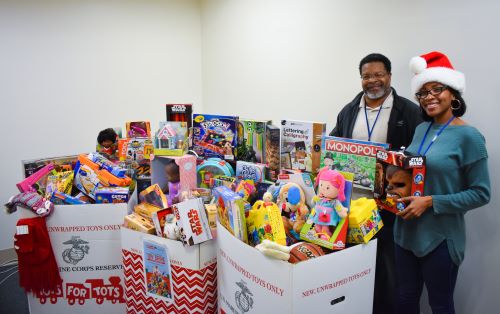 NOVEC HELPS volunteers William Vaughn and Ashley Arnold display donated toys.
MANASSAS, Va. – Northern Virginia Electric Cooperative's group of employee volunteers, NOVEC HELPS, is collecting new, unwrapped toys and gifts for children and teenagers for the United States Marine Corps Reserve Toys for Tots drive and for children in area homeless shelters. Donations may be dropped off between 8:15 a.m. and 5 p.m., Monday-Friday, through Friday, Dec. 6, at these NOVEC offices:
10323 Lomond Drive
Manassas, VA 20109
14500 Minnieville Road
Woodbridge, VA 22193
"Please remember to donate something for teens, as well as tots," urges Jim Chesley, vice chairman of NOVEC's board of directors. Chesley, the Clifton Lions Club, and Dominion Cruisers are working with NOVEC HELPS on the drive. For older children, he suggests donating backpacks, board games, books, bath gift sets, hand-held electronics, winter hats, scarves, and gloves.
About NOVEC HELPS
NOVEC HELPS, Hands Engaged in Local Public Service, is a non-profit, 501(c)(3) organization of NOVEC employees who volunteer in the community. The HELPS board of directors votes on projects and events to support, whether with financial donations or with feet on the ground. Learn more at www.novechelps.org .         

About NOVEC
NOVEC, headquartered in Manassas, Virginia, is a not-for-profit corporation that provides electricity to more than 169,000 metered customers in Fairfax, Fauquier, Loudoun, Prince William, Stafford, and Clarke counties, the City of Manassas Park, and the Town of Clifton. It also supplies natural gas and energy products and services to consumers in the Washington, D.C., region. The utility serves more customers than any electric co-op in Virginia and is one of the largest electric cooperatives in the United States. For more information, visit www.novec.com or call 703-335-0500 or 1-888-335-0500.
About Toys for Tots
The United States Marine Corps Reserve is a 501(c)(3) organization that uses the annual charity drive to "motivate less fortunate children to grow into responsible, productive, patriotic citizens and community leaders." Learn more at www.toysfortots.org.