Dale City Track Club 2020
STAYING ON TRACK
Dale City Track Club keeps children active during COVID-19 pandemic
In a normal year, when October arrives, NOVEC member Shanel Evans says the Dale City "Lightning" Track Club would be preparing their athletes for their club's indoor season. "We would be supporting our athletes in middle school track and prepping our high school athletes for their indoor season," Evans says.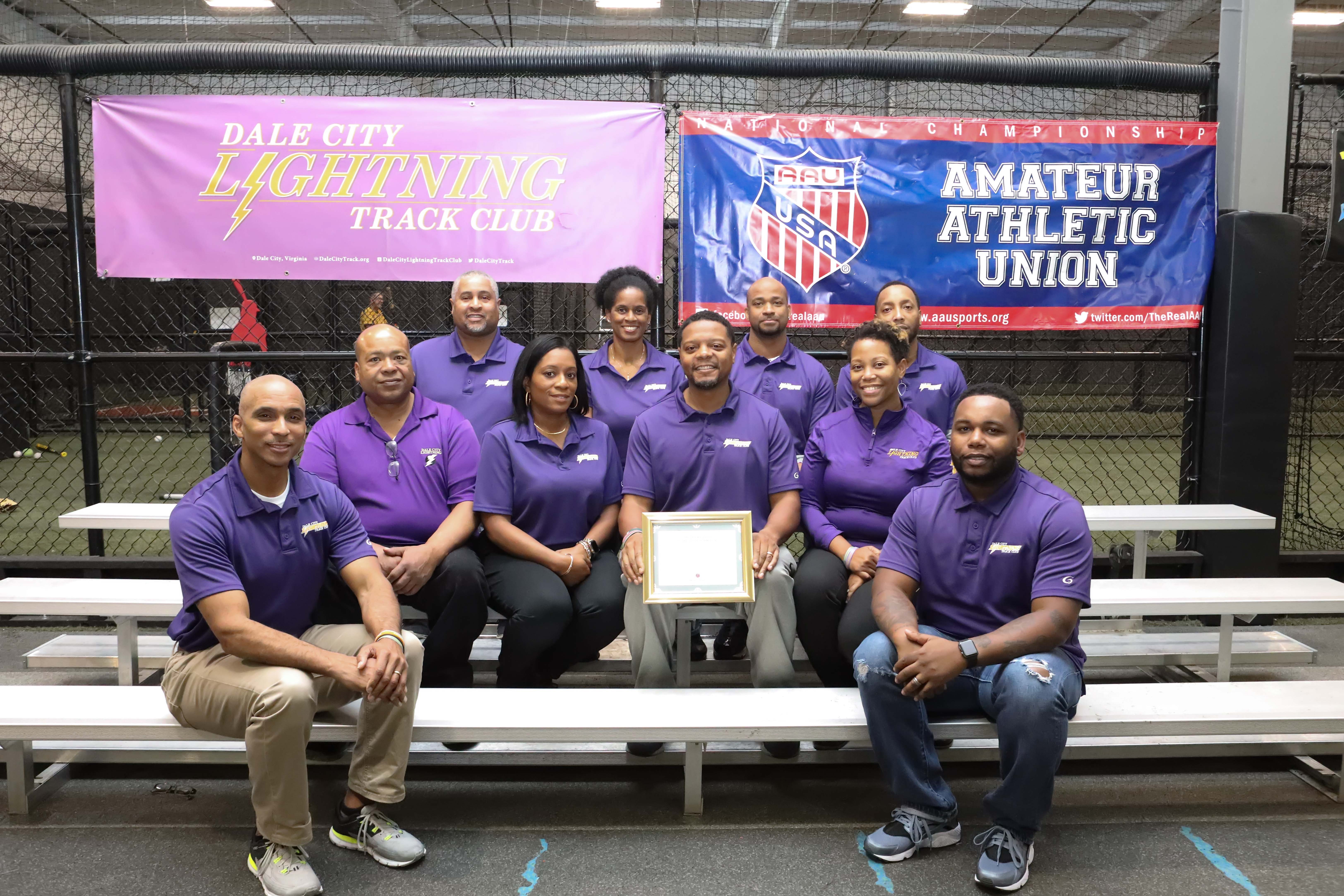 However, 2020 has been anything but normal because of the COVID-19 pandemic. For Evans, the club administrator and team mom for the group since its inception 10 years ago, flexibility has been the name of the game. "The impact for us started in early March when our indoor championships were canceled," Evans explains.
Pictured: Club coaches and parents display the 2018 Track and Field District Club of the Year award by Virginia's Amateur Athletic Union. Photo courtesy of DCTC.
Never one to step down from a challenge, the DCTC — named the 2018 and 2019 National Track and Field Club of the Year by Virginia's Amateur Athletic Union — decided to tackle things in a new way. As schools began rolling out plans for virtual learning, Evans and the DCTC coaches started a curriculum of their own for their almost 300 athletes, ages 5 to 17. "We wanted to make sure our students stayed physically active, so we started doing weekly live challenges via Facebook to encourage the kids to work out at home," Evans explains. They also planned for in-person practices while incorporating social distancing.
"Everything just hit so quickly," recalls Nadirah Gladney. Her two children, Andre, 9, and Aniyah, 7, both participate in DCTC. "They were supposed to have a track meet and that weekend when everything was canceled, it hit us that this was really serious." Gladney says when the coaches reached out about having workouts online, she was elated. "It was so perfect," the NOVEC member notes. "Even though there was no season and they couldn't go to a meet, the coach put out training videos." Gladney said having the workouts readily available let her and her husband have the chance to fit the workouts into their schedule and keep their children active.
For students like 17-year-old Alexis Baumgartner, the focus with the season being canceled went beyond the immediate impact. "Most of the shock came from not being able to compete at that time," she says, "I was just scared I wasn't going to get any time or any practice and I wouldn't be ready for college." However, once she received information and started the program she was able to move forward with confidence. "I was really happy because it was going from training on my own to being able to train with others and still feel like I was part of a team. It was a weight lifted off my shoulders."
In addition to physical challenges, DCTC hosted webinars for their high school seniors who hoped college coaches would recruit them. The webinar subjects included how to approach coaches, put together an athletic profile, and interact on social media.
The team always encourages academics. "Even though we work on athletic development, that doesn't mean anything without academics," Evans says. "We've used school downtime to help kids keep their minds sharp."
Evans says she appreciates having the families trust DCTC as new plans were made. "A lot of parents were in the middle of registration," Evans recounts. "They didn't want their money back. They just wanted us to start something. We feel grateful to have the support of our families, our athletes, and our community."
Gladney says even though things didn't go according to plan, she loves the effort that went in to keep everyone connected. "While they may be missing some socialization with their friends at school because of this, they can still interact with their friends while staying active." "The Dale City Track Club has made a tremendous impact on area youth and has left an indelible mark in the state as well," states Katherine Gotthardt, a club booster and NOVEC member in Bristow, Va. "Their dedicated coaches and volunteers have helped shape this winning team, not just in sports, but in character." Despite the pandemic, "They are doing a great job keeping these kiddos busy, fit, and motivated!"
As a supporter of youth athletics and academics, NOVEC salutes the DCTC and teams throughout the Co-op's service territory. Learn more about NOVEC's youth support at novec.com/community.