Contact: NOVEC Public Relations, 1-888-335-0500, communications@novec.com
Low January temperatures cause high energy bills
NOVEC offers help
MANASSAS, Va. – January's low temperatures caused consumers in the Midwest, South and Northeast to use lots of energy to stay warm. Northern Virginia Electric Cooperative reminds its customers that their high energy use will be reflected in their electric bills. NOVEC suggests energy- and cost-saving tips.
Record-high electricity use results in higher bills
"Some NOVEC customers who are calling us think we've increased our rates," says Bob James, NOVEC energy specialist. "We want customers to understand that NOVEC's rates have remained the same since we lowered them in 2011, but when the temperature drops below freezing, as it did on 23 out of 31 mornings in January, heating systems work extra hard to heat homes. That extra work causes higher bills."
James notes that NOVEC customers set new winter records for power use in January, as did customers of other electric utilities in the Washington, D.C., region and beyond. The PJM Interconnection, a regional transmission organization that coordinates wholesale-electricity movement in all or parts of 13 states, including Virginia, and the District of Columbia, issued cold weather alerts in early January. The 65 million people on the PJM grid used so much electricity that they set three of the top 10 PJM records for winter peak demand. Those people are now receiving their electric bills.
James says customers concerned about high bills should go to www.novec.com/save: "We have all kinds of information on our website about saving energy. Anyone can take an online energy audit specific to his or her home at NOVEC's Home Resource Center. Alternatively, customers concerned about their bills may call NOVEC's Customer Service Center at 703-335-0500 or 1-888-3335-0500."
Virginians pay less for electricity than most Americans
The average Virginian – including NOVEC customers -- paid 11.4 cents for every residential kilowatt-hour (kWh) of electricity they used in 2016, according to January 2018 data from the Energy Information Administration. The average American paid 12.6 cents per kWh.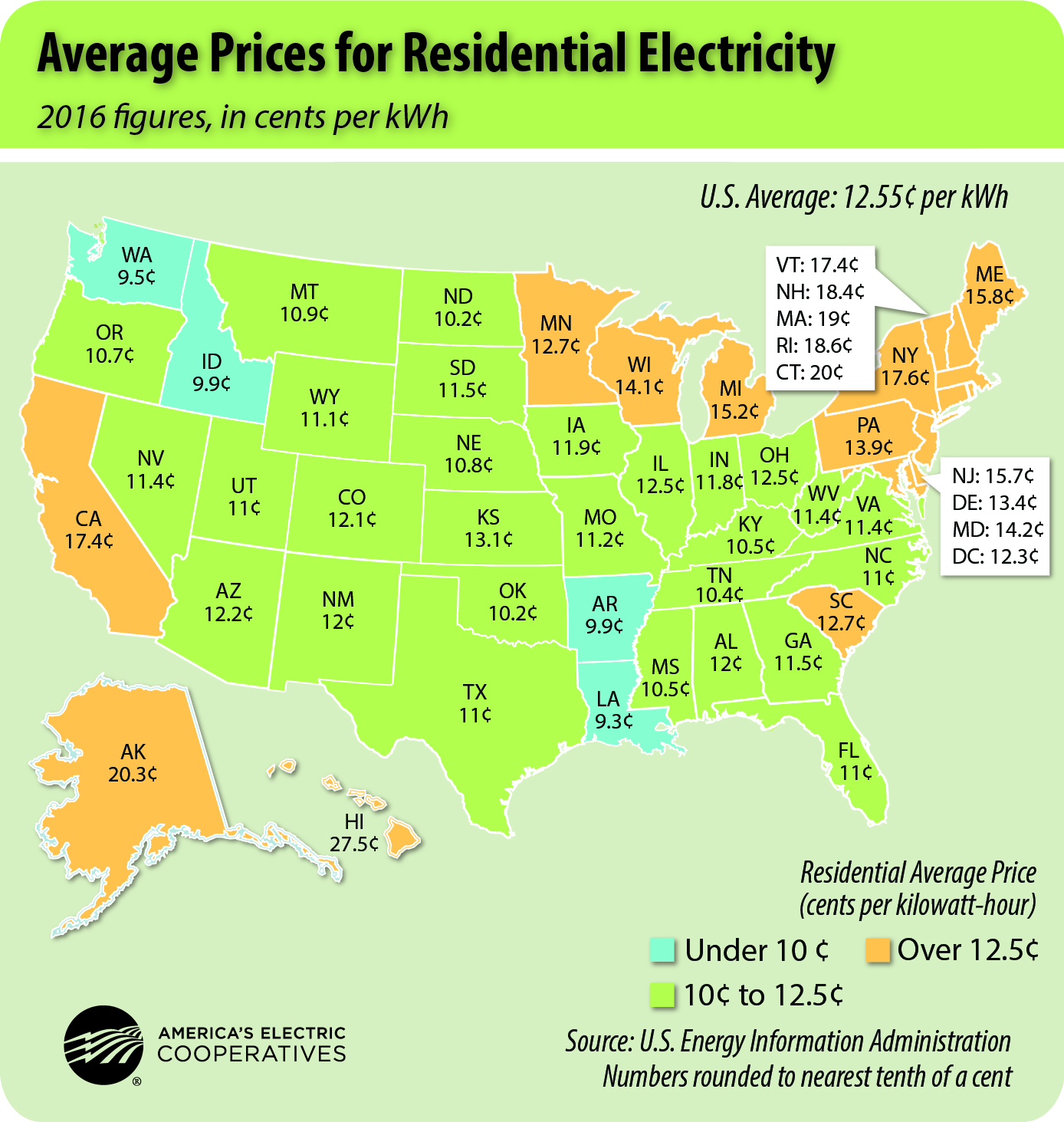 "Compare 11.4 cents Virginians paid with the 14 cents the average resident in Maryland paid, or the 20 cents Connecticut residents paid," suggests Lisa Hooker, assistant vice president of public relations. "In addition to keeping bills lower than the national average, NOVEC gives its customers CashBack and power-cost-adjustment credits. We can do this because we're a not-for-profit electric cooperative. When we save money, we pass along the savings to our customers."  
Levelized Billing
NOVEC customers may sign up for levelized billing to help them manage their bills. Levelized billing calculates a customer's average bill for the last year and lets the customer pay approximately the same amount each month. Hooker says, "Levelized billing helps customers budget more effectively, especially when credit card bills for holiday shopping arrive at the same time as winter heating bills."
To participate in levelized billing, customers may call the Customer Care Center at 703-335-0500 or 1-888-335-0500, or visit www.novec.com and click on Billing and Payment Options. 
Important Heat Pump Instructions
James points out that many homes in Northern Virginia use heat pumps: "Heat pumps work efficiently when winter temperatures are moderate, but when outdoor temperatures drop below freezing, the more expensive backup electric-resistance auxiliary heat comes on automatically to assist heat-pump operation.
"Be sure to set the thermostat on 'Heat' -- not 'Emergency Heat,'" James cautions. "Only use the expensive emergency heat if the heat pump malfunctions."
James recommends setting a heat-pump thermostat at 68 degrees or another constant temperature. "Moving temperature settings up and down more than two degrees turns on electric-resistance heat," James explains. "Otherwise, install a special heat-pump thermostat designed for automatic setbacks. For other heating system types, check the operating manual."
10 Energy- and Cost-Saving Tips:
Set the thermostat at 68 degrees.
Replace furnace filters regularly to maintain efficiency.
Keep registers and vents clear to allow air to flow freely.
Open drapes and shades during the day to let the sun help heat the home. Close them at night to keep heat indoors.
Be sure windows and storm windows are shut and locked. For extra insulation, cover windows indoors with clear plastic sold in kits in hardware stores.
Attach insulating sweeps on exterior doors at thresholds to block cold-air drafts. Or push old towels against thresholds temporarily.
Keep doors of an attached garage closed as much as possible to prevent cold air infiltrating indoors. 
Install an insulating attic-door cover or insulate around the door.
Close glass doors over a wood-burning fireplace to prevent home heat from going up the chimney. When not in use, close the fireplace's flue damper as well as glass doors. 
Lower a water heater thermostat to 120 degrees or set it between "hot" and "warm."
About NOVEC