Contact: NOVEC Public Relations, 1-888-335-0500, communications@novec.com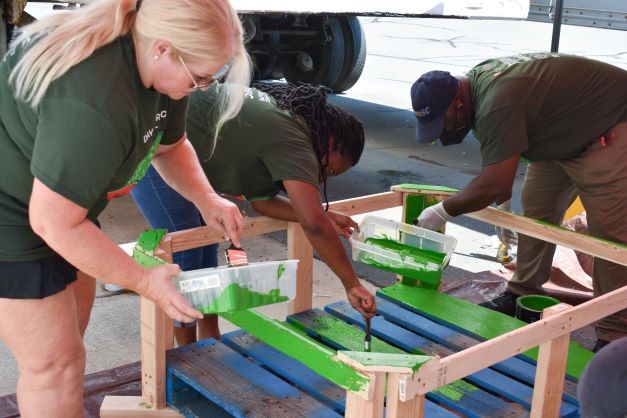 NOVEC employees construct and paint a compost bin for the House of Mercy in Manassas on NOVEC's Day of Caring. Photos by NOVEC.
MANASSAS, Va. – About 40 Northern Virginia Electric Cooperative employees spent a day assisting two charitable organizations in August. The employees, including members of the Co-op's group of volunteers, NOVEC HELPS, spent a day assisting the House of Mercy Thrift Store and Food Pantry in Manassas and the Western Fairfax Christian Ministries food pantry in Chantilly. Co-op employees assisted with a wide range of tasks at both locations.
One of the more involved tasks NOVEC volunteers took on at the House of Mercy was making a composting bin. "We had been talking about building a composting bin for a couple of months," explains Sophia Crooks, House of Mercy program manager. "The NOVEC HELPS volunteers helped us a lot by building one. Volunteers are of the utmost importance to our ability to live out our mission." NOVEC employees also replaced lightbulbs, removed old wiring, and sorted food and clothing donations.
NOVEC employees sort food in WFCM's pantry on NOVEC's Day of Caring.
At Western Fairfax Christian Ministries (WFCM), volunteers filled 300 bags of food for distribution and organized the nonprofit's warehouse after cleaning shelves and stocking food in their pantry. Kristine Hurt, WFCM's pantry manager, says NOVEC workers "accomplished in one day tasks that might have taken us a couple of months to do. We appreciated NOVEC's help."
The annual Day of Caring event gives NOVEC employees the opportunity to volunteer in the community as a team. "I love that we had a chance to give back in a way that can help hundreds of families," says Ashley Arnold, NOVEC HELPS executive director. "Community organizations can always benefit when people help and work together."
About NOVEC
NOVEC, headquartered in Manassas, Virginia, is a not-for-profit electric utility corporation that supplies and distributes electricity and energy-related services to more than 175,000 metered customers in Fairfax, Fauquier, Loudoun, Prince William, Stafford, and Clarke counties, the Town of Clifton, and the City of Manassas Park. It is one of the largest electric companies of its kind in the nation. For more information, visit novec.com or call 703-335-0500 or 1-888-335-0500.
About NOVEC HELPS
NOVEC HELPS is a nonprofit, 501 (c)(3) organization of NOVEC employees who volunteer their time to help others and engage other employees in community service projects. The NOVEC HELPS board of directors votes on programs and events to support, whether with financial donations or with feet on the ground. Learn more and donate at novechelps.org.