Prince William County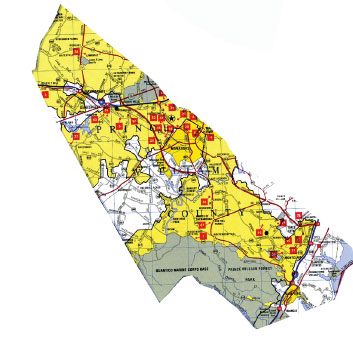 Number of Customers:
Prince William County: 84,775
City of Manassas Park: 5,979
Number of Line Miles
2,865.32 Underground
968.28 Overhead
Taxes Paid in 2017
Prince William County
Property Tax: $4,016,024
Utlity Tax: $726,987
City of Manassas Park
Property Tax: $220,755
Utlity Tax: $24,829
Major Employers Served
AOL
Architect of the Capital
ATCC
Atlantic Food Services
Best Buy
City of Manassas Park
Comcast
Corporate Office Properties Trust
Costco
County of Prince William
Dale Service Corp.
Federal Emergency Management Agency
Food Lion Inc.
General Dynamics
George Mason University
Giant Food
Home Depot
IKEA Virginia LLC
Lockheed Martin Corporation
Lowe's Home Centers
Manassas Mall
Northern Virginia Community College
Porpoise Ventures, LLC
Potomac Mills Mall
Prince William County Public Schools
PWCS Facilities Mgmt. Dept.
Safeway
Shoppers Food Warehouse
Target
US Federal Bureau of Investigation
Upper Occoquan Sewage Authority
Verizon
Virginia Department of Transportation
Virginia State Forensics Laboratory
Vulcan Materials
Wal-Mart
Community Organizations and Causes We Support:
4-H
ACTS
Alzheimers Association
American Cancer Society
American Diabetes Association
American Red Cross
Americans in Wartime Museum
BARN
Boy Scouts of America
Boys & Girls Club of Prince William
CAPAC, Inc
CASA
Celebration Singers
Center for the Arts — Manassas
Chips4Charity
Freedom Museum
Friends of Leesylvania State Park
Gainesville Ballet
Greater Manassas Children's Choir
Greater Manassas Christmas Parade
Greater Prince William health Center
Habitat for Humanity
Heritage Charity Classic
House of Mercy
Hylton Performing Arts Center
Keep Prince William Beautiful
Leukemia & Lymphoma Society
Lifelong Learning Institute
Literacy Volunteers of America
Manassas Ballet Theatre
Manassas Chorale
Manassas Museum
Manassas Symphony Orchestra
March of Dimes – March for Babies
Matthew's Center for Visual Learning
Novant Health Prince William Hospital
Foundation
New Dominion Choraliers
Northern Virginia Family Services
NOVEC High School Scholarship Program
Old Bridge Chamber Orchestra
Park West Lions Club
Prince William Chamber of Commerce
Prince William Clean Community Council
Prince William Crime Prevention Council
Prince William Public Library System Foundation
Project Mend-A-House
PWCPS SPARK Education Foundation
Soroptimist International of Manassas
Sentara Potomac Hospital Foundation
SERVE Inc.
Serve Our Willing Warriors
The Salvation Army — Prince William County
The Arc
The House, Inc
The Streetlight Homeless Project
Virginia Airborne Search & Rescue
Woodbridge Dance Company
Woodbridge Flute Choir
Youth for Tomorrow
Youth Orchestras of Prince William
Youth Team Sports Sponsorships
Youth Tour Legislative Conference
Operation Round Up®: Heating assistance grants available through ACTS and SERVE, Inc.