Renewable Energy
NOVEC is focused on delivering safe, reliable and economically priced power to its customer-owners. With power from its Halifax County Biomass Plant and other renewable-energy sources, NOVEC is distributing more "green" power today than ever before. And it is using energy more efficiently and helping customers to do the same.
Biomass Plant Energy Production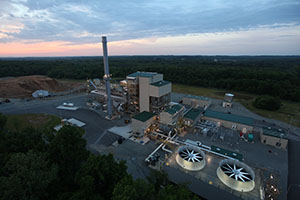 Among renewable-energy sources in Virginia, biomass power production is one of the most dependable, economical, and environmentally friendly alternatives available. This is especially true in Virginia's Southside region where acres of forests and commercial logging create abundant wood waste. This region is where NOVEC built its first power plant: the NOVEC Energy Production Halifax County Biomass Plant. The plant's 49.9-megawatt capacity is capable of providing enough renewable energy to power the equivalent of 16,000 NOVEC homes.
Solar Energy
NOVEC distributes 290 kilowatts of solar energy from the Fauquier County Livestock Exchange. In addition, NOVEC supplies — free of charge — net meters to customers who want to connect their solar systems to the grid.
Landfill Gas-To-Energy Project
The Prince William County Landfill operates five generators that use gas captured from decaying trash to generate electricity. The generators convert landfill gas into approximately 6.7 megawatts of electric output each year for NOVEC customers.
Customer Service Representatives and Energy Specialists
Co-op members who have questions or concerns about their electric bills may call customer service representatives and energy specialists, who will be happy to help.
NOVEC's renewable energy, along with its energy-conservation tips and tools, are powering a greener life for the Co-op and its members.
Learn more at www.novec.com/save.