Education and Career Presentations
Career Presentations
NOVEC professional and technical staff are available to participate in school-sponsored career days or similar events. Our staff will visit with students and provide a hands-on, close-up presentation of career opportunities at NOVEC and in the electric utility industry. To schedule a career presentation, contact Organizational Development at 703-392-1502, or e-mail novecjobs@novec.com.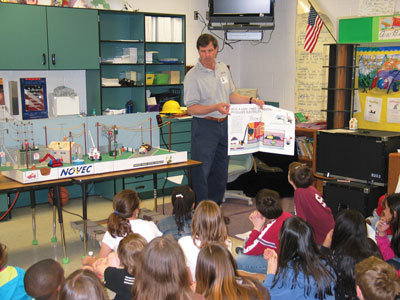 Electrical Safety Presentations
NOVEC also offers an electrical safety presentation for firehouse open houses, schools, and home-schooled children, and for Girl Scouts, Boy Scouts, and other community groups by request. At present, this free service is only available to schools within NOVEC territory upon request who would like an on-site demonstration.
Topics discussed include: where electricity comes from, how it affects our lives, and how to be safe around electricity in the home and outdoors. To schedule an electrical safety presentation, contact Energy Services at 703-392-1603, or e-mail energyservices@novec.com.