Mobile App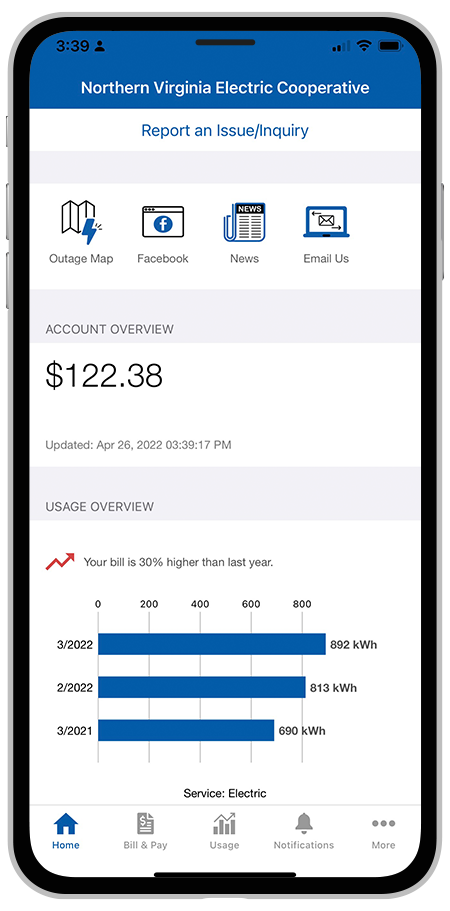 NOVEC SmartHub
The MyNOVEC Smarthub mobile app is available for download from the Apple App Store and the Google Play store.
What is the difference between the SmartHub web portal and mobile app?
Both platforms are part of our online account management system for members.
Both the web version and mobile app allow you to securely access account information, change your personal information, manage notifications, update stored payment methods, view bills and payment history, make payments, and report issues.
The free, secure mobile app is available to download and install on mobile devices and tablets.
Is the mobile app secure?
Yes. All critical information is encrypted in every transaction run and no personal information is stored on your phone or tablet.
Mobile devices do offer you the ability to store your login information for apps installed on the device. If you choose to store your login information, any person who has access to your mobile device can access your account.
How do I download the app and sign up for SmartHub? (Mobile)
Visit the Apple App Store or Google Play on your phone or tablet and search for "MyNOVEC." Select our free and secure app to begin the download process.
If you have already registered via the web portal, you will be able to log into the app immediately. If you haven't registered yet, follow the instructions below.
Members can sign up for SmartHub via the login page. To create a new online account, click "Don't have an account? Register now." on the login page for SmartHub.
From the registration screen, type your billing account number, last name or business, and email address in the requested fields.
You will receive an email to verify your account. You will then be prompted to change your password.
About SmartHub
Learn more about SmartHub and find instructions on how to register, FAQs, and more.