Wood Chip Mulch
Tree limbs and branches removed from trees during routine line maintenance activities are chipped up for removal from the site. This chipped material is loaded into dump trucks which each carry approximately 8-20 cubic yards of material. This chipped material makes good "mulch" for wooded areas, high erosion areas and tree circles.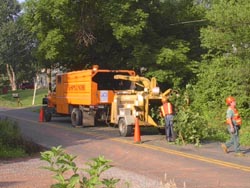 NOVEC contractors give this material away on a first come, first serve basis in areas where they are currently working. To request wood chip mulch, please use our e-mail form. You can also call 703-392-1600.
NOTE: Requesting wood chip mulch does not guarantee a delivered load of wood chip mulch. Contractors can only deliver wood chip mulch as a courtesy in areas served by NOVEC when they are actively working in those areas. If you have not received wood chip mulch within several months of your request, please update your request.