Herbicide Applications
NOTICE – Contract crews from Superior Forestry, Inc. will be applying foliar herbicides where needed along areas of NOVEC's territory within Fauquier County, Loudoun County, and Prince William County. Crews make applications throughout the months of May, June, and July depending on weather conditions.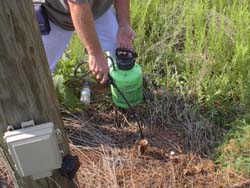 The Vegetation Management department at NOVEC currently contracts with Superior Forestry Service, Inc. to apply herbicides on our rights of way to prevent the re-growth of woody brush and trees which have been previously removed, or to slow the growth of existing yard trees.
The stumps of trees which were cut down individually are treated with a Garlon/Stalker mix. This chemical is tinted blue for visibility of application and prevents a new tree from growing from the stump. This herbicide is used after large trees are removed and is only noticeable by the blue tinted stump. Crews from Lewis Tree Service, Inc., and Asplundh Tree Experts, LLC also apply this herbicide combination to the stumps of trees they remove.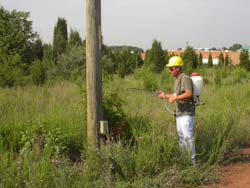 Woody brush that has grown up after an area has been mowed is treated with a Foliar Herbicide mix. This herbicide is applied to the foliage of the targeted material and kills the root system. The leaves of the sprayed brush will turn brown within 1 to 3 weeks and the plant will not re-sprout the following spring. When this herbicide is applied, many areas of our rights of way may appear completely void of greenery; however this is a temporary condition. By removing the woody plants, other more desirable grasses, ferns, berries, wildflowers and a variety of low growth ground cover will flourish.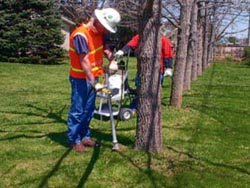 Tree growth regulators (TGRs) have become a useful tool in limiting the conflict between established trees and overhead power lines. TGRs are chemicals that slow the growth rate of plants to which they are applied. NOVEC and its contractors utilize Profile or Cambistat in certain areas to slow the growth of certain fast growing trees located directly underneath or beside some of our main overhead power lines.
These chemicals are either injected into the root zone of the tree or poured around the base of the selected tree. Each tree species requires a specific amount of chemical based on the diameter and crown type. The tree growth rate begins to slow one year after application, resulting in shorter branch elongation and deeper green leaves. This slow growth allows a longer period before required trimming.
NOVEC's Vegetation Management team goal is to create a more aesthetically pleasing, low maintenance right of way by replacing unwanted brush trees under our overhead lines with desirable low growth grasses.
For specific information on the chemicals used in this work, search https://www.msds.com/Msds/Search.
For questions about Virginia licensing requirements for our applicators, please visit https://www.vdacs.virginia.gov/.
For more information on NOVEC's herbicide applications, contact the Vegetation Management Department at 703-392-1600.